This ammunition is custom-grade from the factory, loaded to stringent specifications to guarantee proper ignition and provide consistent, match-winning, pinpoint accuracy, shot after shot. Performs as well or better than handloads. This ammunition is new production, non-corrosive, in boxer primed, reloadable brass cases.
Conventional polymer tips in high BC bullets melt in flight. Hornady engineers discovered that conventional bullet tip materials in streamlined, high BC bullets melt and deform. Although not a significant issue affecting moderate BC conventional tipped varmint and hunting bullets, aerodynamic heating causes BC reduction and degradation of accuracy, particularly at extended ranges (400 yds +). To counter this effect, Hornady identified a heat resistant polymer and developed the patent pending Heat Shield tip.
300 prc ammo
This revolutionary new tip creates the perfect meplat (tip) with exceptionally consistent results from bullet-to-bullet and lot-to-lot. The Heat Shield tip defies the effects of aerodynamic heating and retains its shape to provide a perfect meplat (tip) that is always the same shape. A streamlined secant ogive with optimum boattail design, plus the highly concentric AMP bullet jackets, combined with the patent pending Heat Shield tip creates a supremely accurate, high BC match bullet. ELD-Match bullet BCs are measured with Doppler radar and corrected to standard atmospheric conditions.
300 prc ammo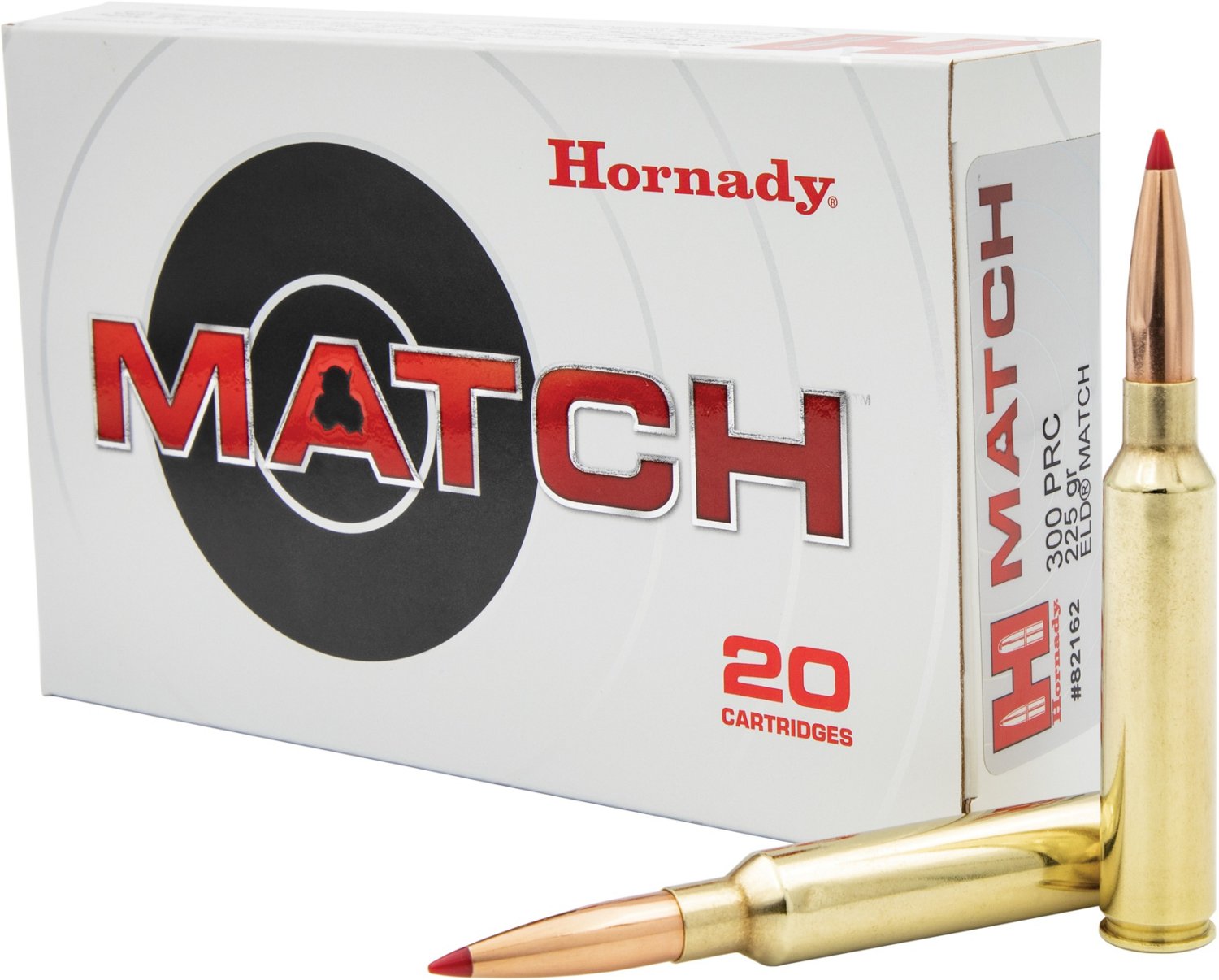 300 prc brass
The 300 PRC is an intelligently crafted 21st century magnum cartridge specifically designed to take advantage of long, heavy for caliber bullets capable of delivering the highest levels of accuracy and aerodynamic performance.
Based on the 375 Ruger cartridge case, the 300 PRC is non-belted and uses a standard .532" magnum bolt face and headspaces off the 30 degree shoulder. This results in better chamber alignment than standard belted magnum cartridges and allows for improved stacking and feeding from fixed magazines.
The 300 PRC cartridge and chamber were designed concurrently combining to provide excellent alignment and highly tuned performance. The cartridge case is designed to use common, temperature stable, magnum speed rifle powders producing extremely consistent velocity and increased barrel life compared to currently available magnum cartridges.
Made In United States of America
Specifications
Product Information
| | |
| --- | --- |
| Cartridge | 300 PRC |
| Grain Weight | 225 Grains |
| Quantity | 20 Round |
| Muzzle Velocity | 2810 Feet Per Second |
| Muzzle Energy | 3945 Foot Pounds |
| Bullet Style | Polymer Tip |
| Bullet Brand And Model | Hornady ELD Match |
| Lead Free | No |
| Case Type | Brass |
| Primer | Boxer |
| Corrosive | No |
| Reloadable | Yes |
| G1 Ballistic Coefficient | 0.777 |
| Sectional Density | 0.339 |
| Test Barrel Length | 24 Inches |
| Velocity Rating | Supersonic |
| Country of Origin | United States of America |
Delivery Information
| | |
| --- | --- |
| Shipping Weight | 1.780 Pounds |
| DOT-Regulated | Yes |